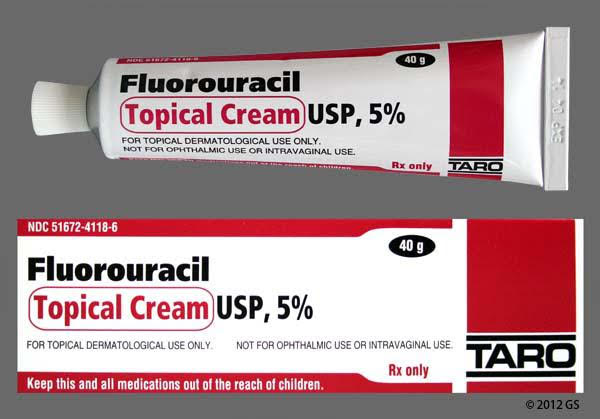 Efudex and Carac are chemotherapy creams composed of topical fluorouracil (5-FU). This active ingredient essentially stops abnormal cells from growing, which is why it is often used for treating skin cancers and precancerous lesions. In some cases, therapy with 5-FU creams may be recommended as an alternative to radiation and surgical removal. This is typically possible for patients who can achieve optimal results without surgery or for those who are not able to undergo surgery.
How Does 5-Fluorouracil Work?
After the cream is applied, the area will become inflamed and crusted. This is your skin's natural response to the 5-FU as it stops DNA production in the cells, causing the abnormal cells to die. Treatment with 5-FU cream can effectively treat more superficial skin cancers. It may be appropriate for patients with the following:
Precancerous growths like actinic keratosis
Basal cell carcinoma
Squamous cell carcinoma
Extramammary Paget's disease
Actinic cheilitis (solar cheilosis)
Erythroplasia of Queyrat
Some melanoma cases
What Side Effects Can Happen with 5-Fluorouracil?
While 5-FU creams typically offer much fewer side effects than systemic chemotherapy, the topical treatment is still a form of chemotherapy and, as such, tends to result in some discomfort. As the cream works to remove abnormal cells, swelling and redness is normal throughout treatment. Crusting and scabbing are often signs the cells are being destroyed, as intended. You may experience occasional burning or pain sensations, as well as an increased sensitivity to the sun. While some side effects are to be expected, please contact your dermatologist if you ever have any concerns with what you are experiencing during treatment.
How Effective Is 5-Fluorouracil for Skin Cancer?
The success rate of 5-FU treatment varies based on factors such as the severity of a patient's skin cancer and how well the topical chemotherapy is tolerated. Every patient responds to 5-FU treatment differently.
If you've noticed a spot or mark on your skin that looks abnormal, please contact our board-certified dermatologist, Dr. Adam Mamelak, to schedule a skin cancer screening!P