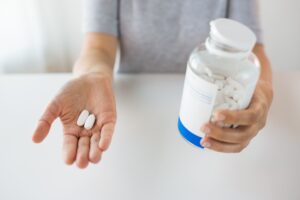 Lung transplant comes with risks that emerge during and after the procedure. Infection is one of the main complications of lung transplants, and voriconazole is a prescription drug of choice. However, studies have shown that patients treated with voriconazole are more likely to develop squamous cell carcinoma.
What Is Voriconazole?
Voriconazole is used to prevent fungal infections in patients who have had a lung transplant. It helps treat aspergillosis, which can often be fatal following the procedure. Those who had a lung transplant tend to have higher rates of infection due to a compromised immune system. Immunosuppression also creates a higher chance of developing squamous cell carcinoma. Squamous cell carcinoma is a type of skin cancer and is a side effect of voriconazole.
Voriconazole And Squamous Cell Carcinoma
A study by the national Scientific Registry of Transplant Recipients showed the relationship between voriconazole exposure and SCC. The study involved 9,599 participants who have had a lung transplant between 2007 and 2016. Of the 9,599, 59.5% were male, with over half being ever smokers. Researchers reported that there 1,031 cases of SCC in a 3-year period after the procedure. Patients with 1-3 months of voriconazole use had a higher chance of developing this type of skin cancer than those who did not use the drug. Those with 15 months of voriconazole use had a greater risk of getting SCC.
Another study done by the University of California at San Francisco investigated lung transplants from 1991 to 2012. Researchers found that those who used voriconazole were 73% more likely to develop SCC. The chances of getting SCC is dose-dependent, with every 30 days of exposure having increased the risk by 3%.
If you have gotten a lung transplant or plan to get one, be aware of the side effects of voriconazole. To learn more about squamous cell carcinoma and the risks of developing this type of skin cancer, contact us today.